Andrews Academy's
Official Newsletter
Andrews Academy Senior Presentation Convocation

Today (Sept. 13, 2022) was Senior Convocation, a formal service to present the senior class and to challenge them to think of and apply their class Motto, Aim, and text. There was special music, prayers, and some officers presented their class banner, which artistically portrays their class Class Aim: "To put dreams in our hearts and our hearts in God's hands," and their Motto, based on a quote by Eleanor Roosevelt: The future belongs to those who believe in the beauty of their dreams, as well as their Bible verse, Proverbs 16:9: "In their hearts, humans plan their course, but the Lord establishes their steps."

Mr. Jean-Ires Michel—parent of a senior, Christiana—presented the Address. He shared a powerful message on the importance of dreams by connecting it with his experiences living in New York as well as his prior occupation as a teacher. He also drew on the story of Absalom—a youth who had dreams in his heart but did not place his heart in God's hands, a reference to the seniors' Class Aim. Mr. Michel urged students to not follow in Absalom's footsteps, and that by doing so, the future would belong to them.

Mr. Atkins and Ms. Chao, the class sponsors, presented the class. Pastor Ferguson then gave a charge to the class, followed by the class president, Hevanna Hippler, who gave the Class President's response. It was an inspiring program to present the senior class and dedicate their school year. A reception in the Commons followed the program. We thank the junior class for organizing this reception.
Regular School Day next Wednesday, September 21

Please note: The Service Day that was planned for next Wednesday needs to be rescheduled. We will have a regular school day instead.
Freshmen & Sophomores (Grades 9 & 10)

This Monday, September 19, grades 9 & 10 will take the MAP® Growth™ test from NWEA® on a Chromebook (provided). Students should arrive at school at 8:00 AM. Testing will begin promptly at 8:30 AM and should conclude by 12:30 PM. Parents, please arrange for your student to be dropped off and picked up on time. Lunch will not be provided that day.

If you would like to have your student glance at what to expect on Monday, visit the NWEA website: https://www.nwea.org, go to the login tab, and select MAP Growth student login from the drop down menu. Once at the login page, select try the practice test. After clicking, try the practice test, enter grow for the username and password. On the next screen select grade, choose any of the subjects, language preference, and any of the tests. This will help the students see what a test will look like on Tuesday.

Parents, please contact Ms. Nieves (nievesl@andrews.edu or 269-471-3453) if your student is not able to make it to the school for MAP testing so that she can arrange another test session for them.
► Note: All freshmen, sophomores, and juniors will take the PSAT test on October 12. We encourage our students to familiarize themselves with the test by taking practice tests online. In addition, students will receive a PSAT study guide and practice test soon from their English teachers in preparation for test day. There is no cost to Andrews Academy students taking the PSAT test.

Juniors (Grade 11)

As the juniors prepare for the PSAT on October 12, a test prep session has been scheduled for this Monday, September 19, at 8:00 AM, while grades 9 & 10 take the MAP tests. The PSAT, when taken in a student's junior year, is a qualifying test for the National Merit Scholarship. They should be done around 12:00 PM.

PM Asynchronous Classes

There will be asynchronous (at home) learning for the afternoon classes, so grades 9-11 should check Google Classroom for each of their afternoon classes to see what may have been assigned for that day.

(Seniors will be on their class trip.)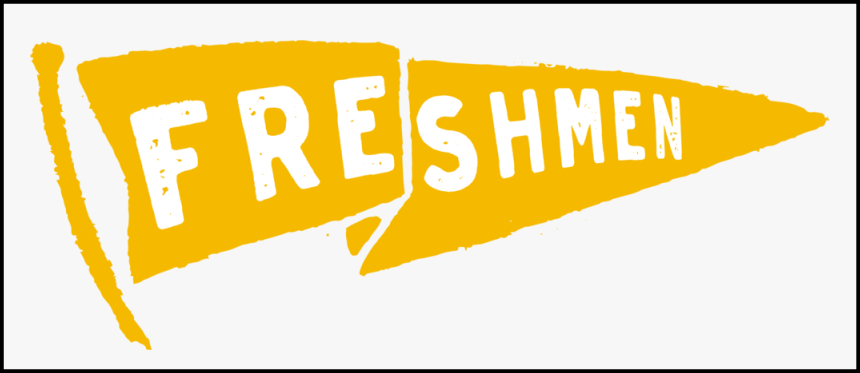 Freshman (9th grade) class officer elections will be on Friday, September 23.
The first freshman class vespers will be on Friday, September 23. Save the date, and plan to come. More details will be announced. If you would like to help plan and prepare for this event, please contact Mrs. Pellegrini (ginap@andrews.edu) or Mr. VanDenburgh (denburgh@andrews.edu).
A link to join the freshman Google Classroom will be emailed to members of the class. Please join to see more information and announcements.
Students, please report positive COVID tests, symptoms, and exposure to COVID at the link below. Thank you!

SAT Testing at AA

We are excited to announce that 50-60 AA seniors (and juniors if we have enough room) will have the opportunity to participate in SAT School Day. More information will be provided soon regarding the test at AA on Thursday afternoon, October 27, so please watch for that.

Ms. Leslie Nieves
Guidance Counselor | Andrews Academy
269-471-3453
nievesl@andrews.edu
Opting into Texting for One Call Now

Andrews Academy utilizes One Call Now, an automated messaging service, to contact students and parents about school cancellations, upcoming events, and performances, etc.
To receive a text notification instead of a call (text works best), please text "ALERT" to 22300. Please make sure that you have given us the number that you would like to be texted on as well. Email ginam@andrews.edu with any changes. Thank you!
FACTS or Andrews Username Log In Help

If you need help logging in to FACTS or help with your Andrews user name/email and password, please contact Mrs. Meekma (ginam@andrews.edu) in the main office.

You can find your schedule, grades, etc. on FACTS. New students, if your username hasn't been set up yet, watch your email for instructions or come to the main office for help.

School Communications
The E-Sanjo and other communications from the school, including classroom teacher communications, use the email address(es) that you (and your parents) have recorded in FACTS when you registered for Andrews Academy. A number of individuals have been wondering why they are not receiving their school communications to a certain email. If you wish to have communications sent to a specific email address, please send the change to ginam@andrews.edu. Thank you!
Tuition
Tuition payment #2 is due on or before September 25.
Senior Spirit Week

Senior Spirit Week occurs the week prior to the senior class trip (Sept. 12-16, 2022). Each day of the week, seniors dress up in various ways:

Monday - Mismatch Day
Tuesday - Dress up Day (for Senior Convocation)
Wednesday - Jersey Day
Thursday - Throwback Day
Friday - Squad Day
More photos will be posted during this fun week for seniors.
Go to AA's Class of 2023 Facebook group to see more photos, and seniors join this group if you haven't already.
Senior Pictures & Ads for Yearbook

Senior pictures are needed for yearbook, class night, and the class composite to be hung in the AA Commons. Yearbook will need your senior and baby pictures by Friday, October 21, 2022. We encourage you to get your senior picture done during the summer before the busy school year begins. Photographers get busy in the late summer and fall, so you may want to book an appointment early. PLEASE PLAN AHEAD and get your picture done in a timely manner.

Please send an electronic senior picture (JPEG) to the yearbook team (aayearbook@andrews.edu). You do not have to go to a professional photographer for this picture, but please make sure you follow the picture requirements below. If not, the yearbook team may request that you send an alternative.
Pictures for both the yearbook and senior ads must adhere to the following requirements:
In color
Picture from waist up (not entire body)
Portrait/vertical mode (not landscape/horizontal)
Attire per AA guidelines—no sleeveless shirts or bare shoulders, no low cut or cropped tops, no jewelry
High-resolution JPEG (at least 4x6, 300 ppi resolution)
Baby Photos

By the same date (October 21), please submit a baby picture as well. The baby picture will be used by yearbook as well as for senior bulletin board and class night purposes. Please submit a high-resolution JPEG baby picture. If you cannot scan the picture, you may bring the baby picture to the yearbook staff, and they will scan it for you.

Also, the last senior yearbook ad night is tomorrow, Wednesday, September 14, starting at 5:00 PM. At that time, you and your parents can purchase senior ads for the yearbook (see the messages to seniors in the back of previous yearbooks for examples).

If you have any questions or need more information, please email Ms. Kim at joellek@andrews.edu.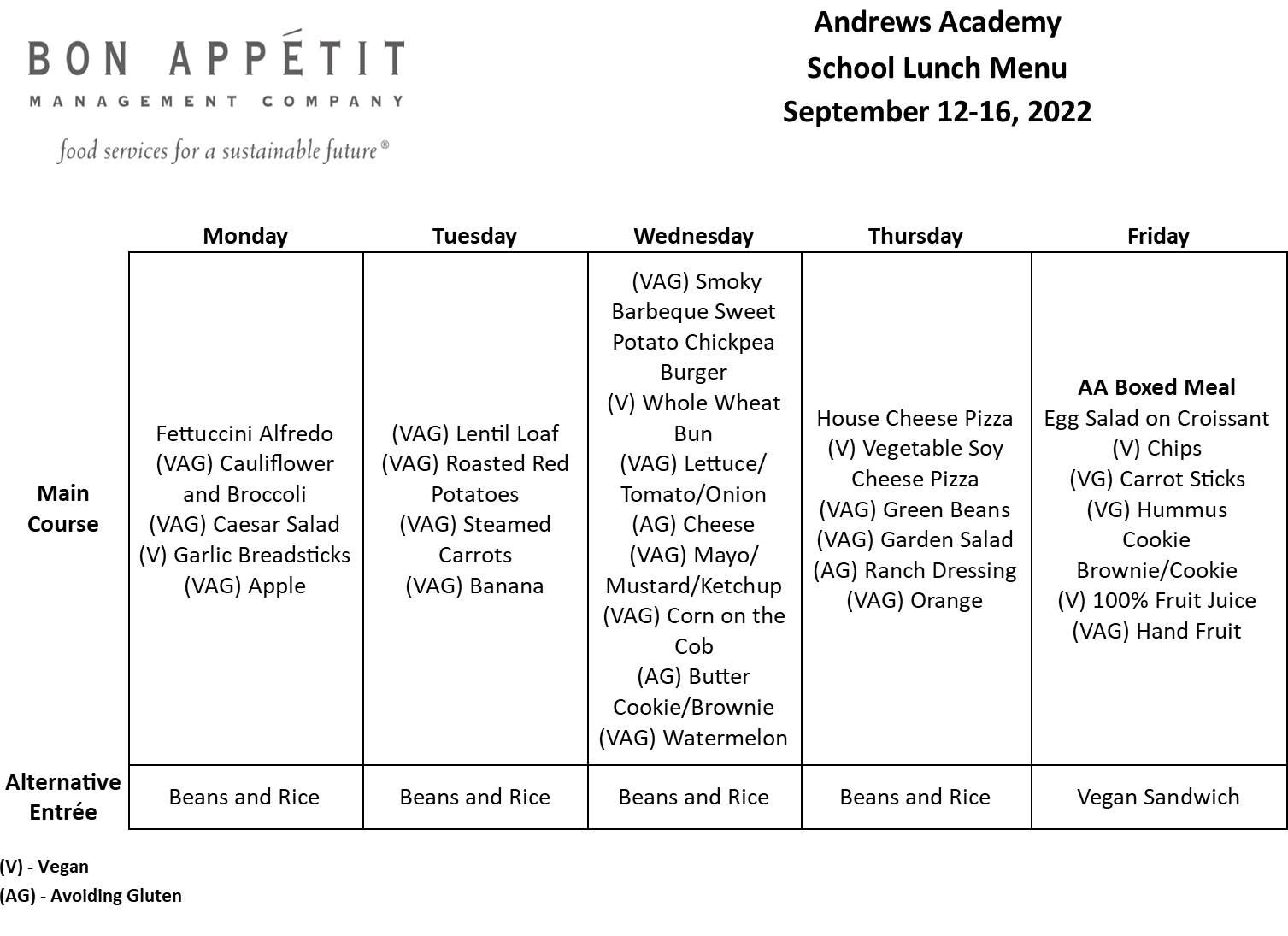 Remember: If you would like Friday's lunch, those who are signed up for the lunch program must request it each week by Wednesday at 2:00 PM. The sign-up sheet will be at lunch or in the main office.

To sign up for the lunch program, please contact Andrews University's Dining Services at ds@andrews.edu or call 269-471-3161. The Dining Services Office is located on the first floor of the AU Campus Center.

Monday–Thursday: 9:00 AM – 5:00 PM
Friday: 9:00 AM to 12:00 PM
* There are options to subscribe to the 2022-23 school calendar on our website.
Open House!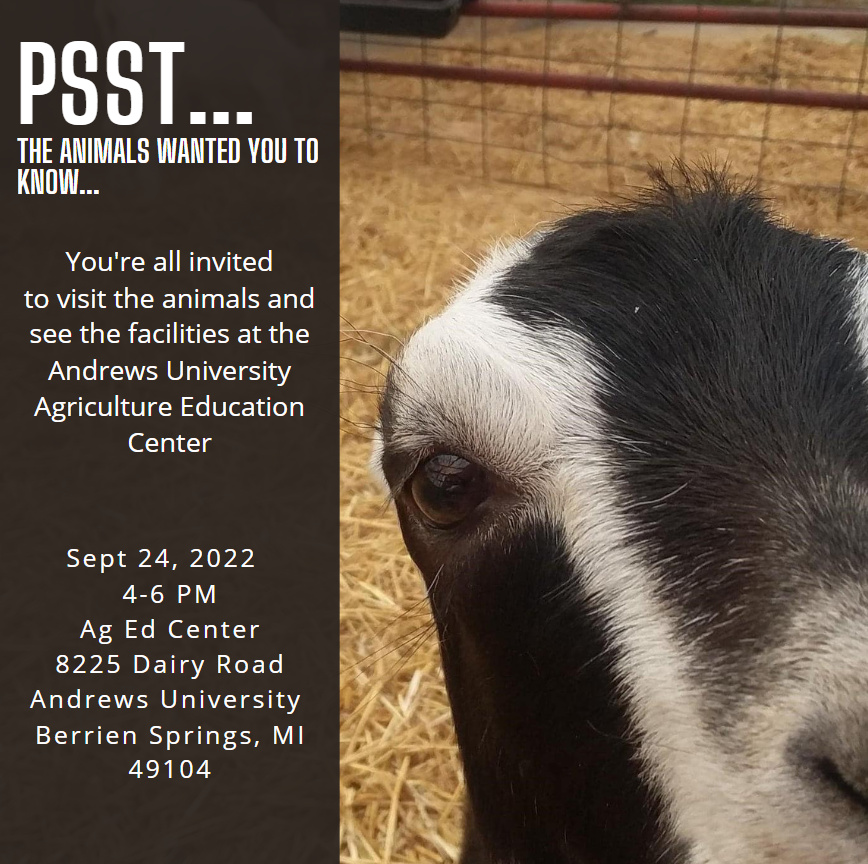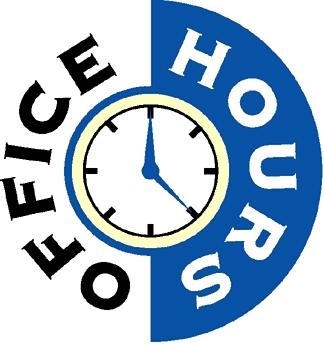 Mondays - Thursdays:
7:40 AM - 4:00 PM

Fridays: 7:40 AM - 2:00 PM
Andrews Academy

8833 Garland Ave Berrien Springs, MI 49104

269-471-3138