Andrews Academy's
Official Newsletter
Hispanic Heritage Month

AA is honoring Hispanic Heritage Month, which spans from September 15 to October 15, to highlight and show our appreciation for the diverse representation we have from students of Hispanic heritage. Our chapel speakers will each highlight the national (and AA's) theme for the month: "Unidos: Inclusivity for a Stronger Nation." Our chapel song services highlight Spanish praise songs and, following that, we hold trivia regarding Hispanic culture.
Mrs. Silvestre started the month off on September 15 by introducing the aforementioned theme and noting how we can create a stronger "nation" here at AA as well. She noted how in Matthew 25:40, Jesus calls us to make connections with others and shared her hope that through this Hispanic Heritage Month, we all will be able to come together to make a more inclusive AA experience.
Mr. Silvestre spoke on Friday, September 16, and started his message by asking students of various cultural backgrounds to stand according to their heritages' continent. He pointed out how the whole world is represented here at AA, which amazes him. "Our God loves diversity," he said proudly. He noted however, that unlike the world, which likes to bring up barriers according to language or culture or skin color, we should break those barriers down because that is what Jesus came to do. For photos, see the Chapel article below.

Mrs. Silvestre's classes made the beautiful bulletin board in the Commons, and in Latin American Culture class, the students made alfajores, an Argentinian dessert.
Freshmen & Sophomores (Grades 9 & 10)

Tomorrow, Monday, September 19, grades 9 & 10 will take the MAP® Growth™ test from NWEA® on a Chromebook (provided). Students should arrive at school at 8:00 AM. Testing will begin promptly at 8:30 AM and should conclude by 12:30 PM. Parents, please arrange for your student to be dropped off and picked up on time. Lunch will not be provided that day.

If you would like to have your student glance at what to expect on Monday, visit the NWEA website: https://www.nwea.org, go to the login tab, and select MAP Growth student login from the drop down menu. Once at the login page, select try the practice test. After clicking, try the practice test, enter grow for the username and password. On the next screen select grade, choose any of the subjects, language preference, and any of the tests. This will help the students see what a test will look like on Tuesday.

Parents, please contact Ms. Nieves (nievesl@andrews.edu or 269-471-3453) if your student is not able to make it to the school for MAP testing so that she can arrange another test session for them.
► Note: All freshmen, sophomores, and juniors will take the PSAT test on October 12. We encourage our students to familiarize themselves with the test by taking practice tests online. In addition, students will receive a PSAT study guide and practice test soon from their English teachers in preparation for test day. There is no cost to Andrews Academy students taking the PSAT test.

Juniors (Grade 11)

As the juniors prepare for the PSAT on October 12, a test prep session has been scheduled for tomorrow, Monday, September 19, at 8:00 AM, while grades 9 & 10 take the MAP tests. The PSAT, when taken in a student's junior year, is a qualifying test for the National Merit Scholarship. They should be done around 12:00 PM.

PM Asynchronous Classes

There will be asynchronous (at home) learning for the afternoon classes, so grades 9-11 should check Google Classroom for each of their afternoon classes to see what may have been assigned for that day.

(Seniors will be on their class trip.)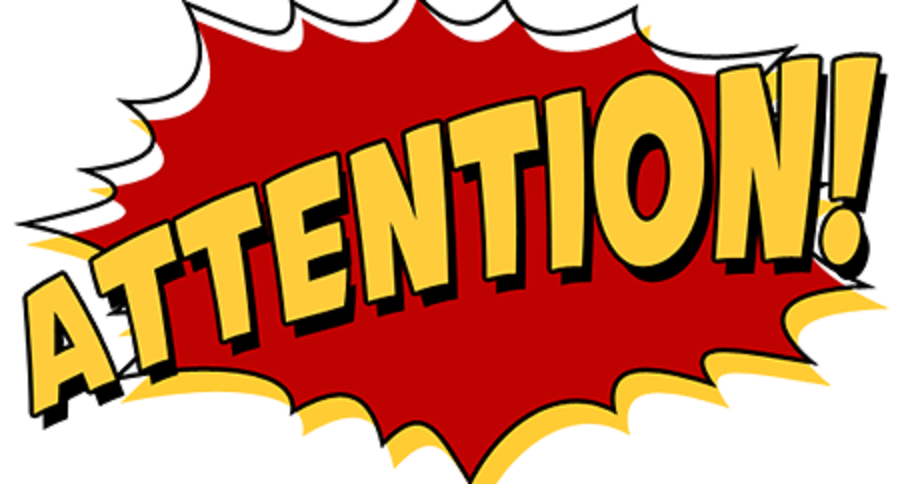 Regular School Day this Wednesday, September 21

Please note: The Service Day that was planned for this Wednesday needs to be rescheduled. We will have a regular school day instead.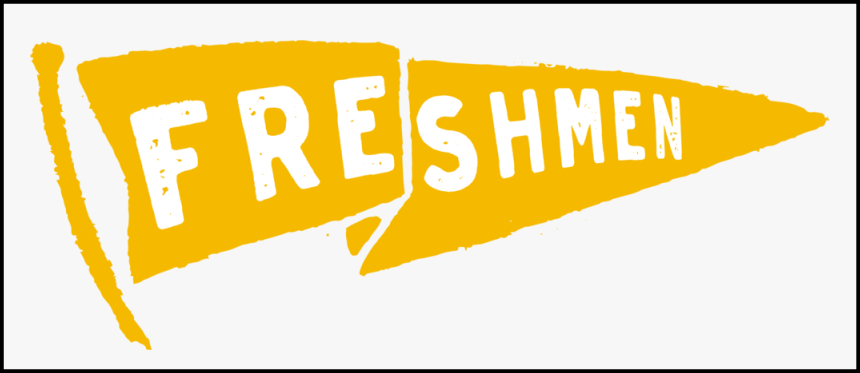 Freshman (9th grade) class officer elections will be this Friday, September 23.
The first freshman class vespers will be this Friday, September 23. Save the date, and plan to come. If you would like to help plan and prepare for this event, please contact Mrs. Pellegrini (ginap@andrews.edu) or Mr. VanDenburgh (denburgh@andrews.edu).
A link to join the freshman Google Classroom has been emailed to members of the class. Please join to see more information and announcements.
Students, please report positive COVID tests, symptoms, and exposure to COVID at the link below. Thank you!

SAT Testing at AA

We are excited to announce that 50-60 AA seniors (and juniors if we have enough room) will have the opportunity to participate in SAT School Day. More information will be provided soon regarding the test at AA on Thursday afternoon, October 27, so please watch for that.

Ms. Leslie Nieves
Guidance Counselor | Andrews Academy
269-471-3453
nievesl@andrews.edu
Opting into Texting for One Call Now

Andrews Academy utilizes One Call Now, an automated messaging service, to contact students and parents about school cancellations, upcoming events, and performances, etc.
To receive a text notification instead of a call (texting works best), please text "ALERT" to 22300. Please make sure that you have given us the number that you would like to be texted on as well. Email ginam@andrews.edu with any changes. Thank you!
FACTS or Andrews Username Log In Help

If you need help logging in to FACTS or help with your Andrews user name/email and password, please contact Mrs. Meekma (ginam@andrews.edu) in the main office.

You can find your schedule, grades, etc. on FACTS. New students, if your username hasn't been set up yet, watch your email for instructions or come to the main office for help.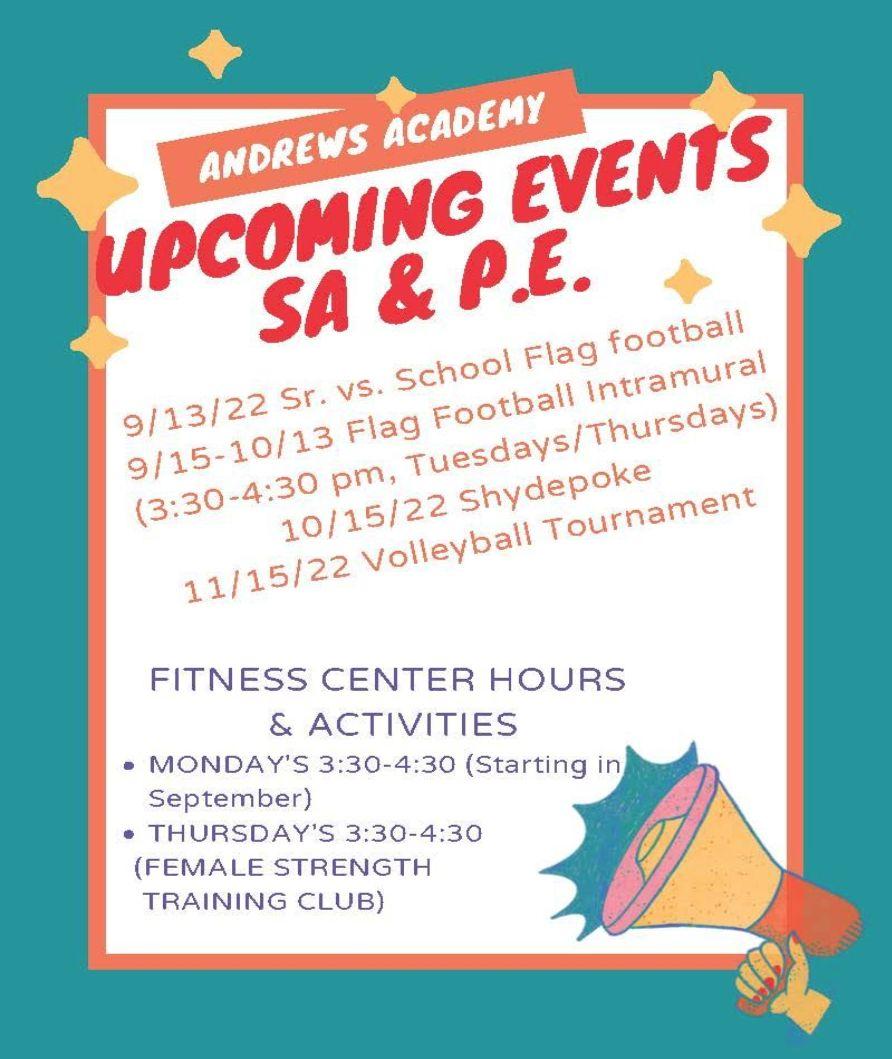 You must use your Andrews.edu email to sign up on the links below. Also, please come the dates that you have selected to be present. If you did not fill out a form, it is still ok for you to attend. This just helps Mrs. Mills to know who is planning on being a part of the group.

Flag Football (Tuesdays & Thursdays)
It is really important that you sign up for flag football intramurals. If we do not have enough students to participate, then the flag-football season will not be able to run as planned. Unless you hear otherwise, be at the football field behind RMES at 3:45 this Tuesday, September 20. This season will go from Tuesday, September 20, to Thursday, October 13, from 3:45-4:45, rain or shine. If it is raining, it will be an indoor game in the gym. If you don't have the link to fill in the form, here it is again. Also, you can only respond to the link once.

Women's Strength Club (Thursdays)
I am very excited for this program, and I am also excited for the amount of students that have shown interest in this by signing up. I have heard that I had a challenge with the form not allowing you to choose more than one day, so I fixed it. Please go back in and adjust your answers where necessary. The link is below if you are interested or need to make changes.

Fitness Center Open Gym Sign up (Mondays/some Tuesdays)
Starting next week, we will have open gym one day per week to allow AA students to come and get some exercise in before they leave for home. If this becomes popular, then I can try and expand the amount of days that are open. Please make sure that you wear appropriate athletic clothing and shoes to work out. You will have access to the locker rooms to change for this activity. I have also created a sign-up form for this activity as well. You will notice that a couple of dates are on Tuesday, due to changes in the school calendar. But, the fitness center is open on Monday's after school from 3:30-4:30. Please use the link below to fill out the form.

Sign-up sheets will also be available on the gym doors. ~ Mrs. Mills

School Communications
The E-Sanjo and other communications from the school, including classroom teacher communications, use the email address(es) that was recorded in FACTS when you were registered for Andrews Academy. A number of individuals have been wondering why they are not receiving their school communications to a certain email. If you wish to have communications sent to a specific email address, please send the change to ginam@andrews.edu. Thank you!
Tuition
Tuition payment #2 is due on or before September 25.
Senior Spirit Week & Class Trip

Senior Spirit Week occurs the week prior to the senior class trip (Sept. 12-16, 2022). Each day of the week, seniors dressed up in various ways:

Monday - Mismatch Day
Tuesday - Dress up Day (for Senior Convocation)
Wednesday - Jersey Day
Thursday - Throwback Day
Friday - Squad Day

Andrews Academy's senior class trip (Sept. 18-22, 2022) is held in the fall to allow the "old" students to rekindle relationships with each other and form new friendships with the new seniors for the remaining year ahead. The itinerary is set up accordingly, to strengthen relationships with each other and with our God. Be praying for the senior class as they departed on their senior class trip today (Sunday morning). They will be traveling many miles and doing a lot of fun activities. Pray for safety and that the trip will be a time to draw the class closer together and closer to our God.
Go to AA's Class of 2023 Facebook group to see more photos, and seniors join this group if you haven't already.
Chapels Last Week

On Monday, September 12, we began our chapel with a special music by the Silhouettes who sang "Jesus Paid It All." Our chapel speaker was Pastor Woods, who gave a stirring message about the reason parents desire to send their children to AA. He stated personal examples, about his own experience sending Megan and Michael to AA. In sum, he provided three reasons:
Because parents believe in putting God first.

Because AA offers a quality education from the teachers.

Because there are many leadership opportunities.
He concluded his message by encouraging students to maximize their experience here.
On Tuesday, we held Senior Convocation instead of our normal chapel. For more information, please click the following link:
On Wednesday, juniors led out in praise and had everyone energetically singing "Jesus' Love is Bubbling Over." Our speaker for the day was Pastor Thorly James—he told us about how just as England's monarchy has a "succession plan," we as Christians are also included in one. He reminded us about how we have "just claim" over the thrones we were given as heirs of God. The two conditions of accepting the succession are that we "receive Him" and we "believe in His name" (John 1:12).
On Thursday and Friday, our chapels were given by Mrs. and Mr. Silvestre, respectively, as we began honoring Hispanic Heritage Month—which is from September 15 to October 15. To read more about their messages, please see the Hispanic Heritage Month section in this E-Sanjo.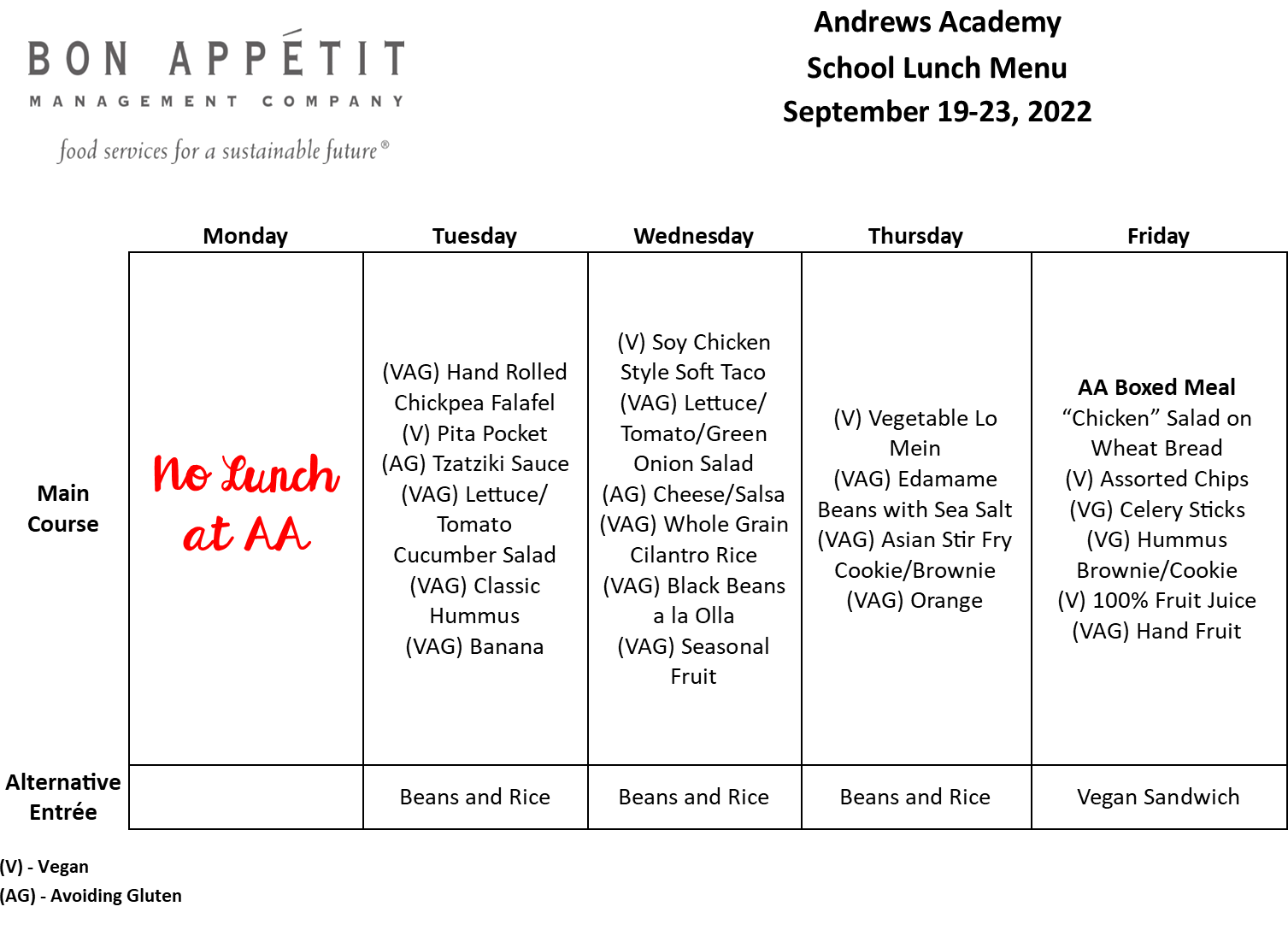 Remember: If you would like Friday's lunch, those who are signed up for the lunch program must request it each week by Wednesday at 2:00 PM. The sign-up sheet will be at lunch or in the main office.

To sign up for the lunch program, please contact Andrews University's Dining Services at ds@andrews.edu or call 269-471-3161. The Dining Services Office is located on the first floor of the AU Campus Center.

Monday–Thursday: 9:00 AM – 5:00 PM
Friday: 9:00 AM to 12:00 PM
* There are options to subscribe to the 2022-23 school calendar on our website.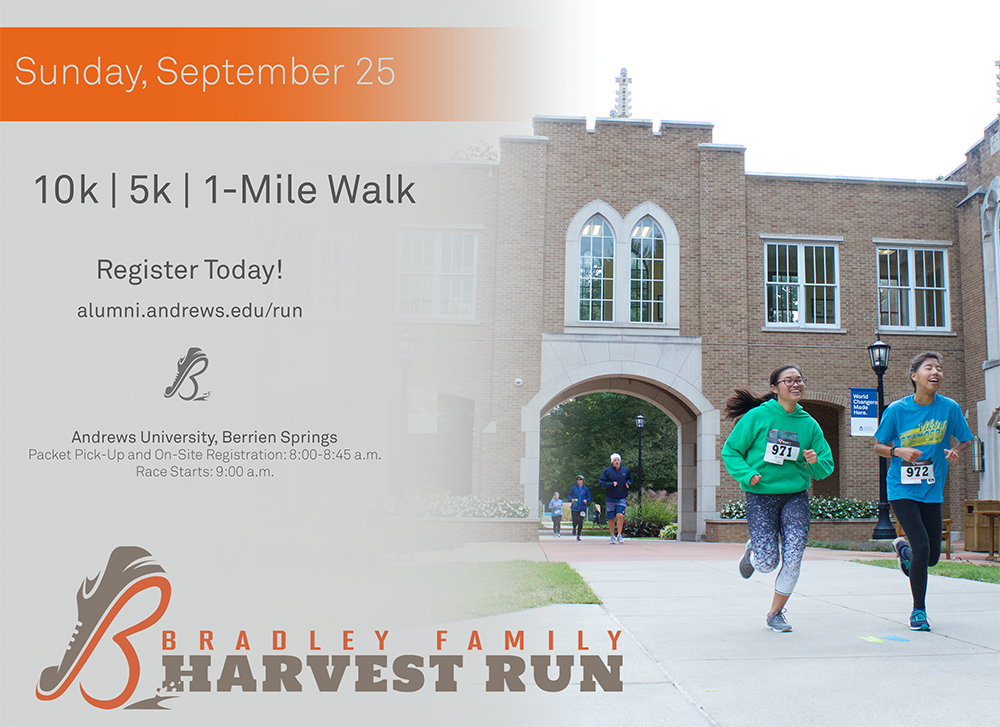 Challenge yourself with a 5k, 10k, or 1-mile walk on Sunday, September 25. Run around the beautiful Andrews center campus and (for the 10k) surrounding forest trails during this scenic chip-timed race. Unique, beautiful medals will be given to the top 3 overall and age group finishers in both the 5k and 10k races.

If you haven't done so yet, be sure to register online at alumni.andrews.edu/run before pricing increases after September 21. Day-of registration will also be offered from 8:00-8:45 AM on race day near the start/finish line at the Andreasen Center for Wellness. Discounted pricing is available for Andrews Academy and Andrews University students.
Open House!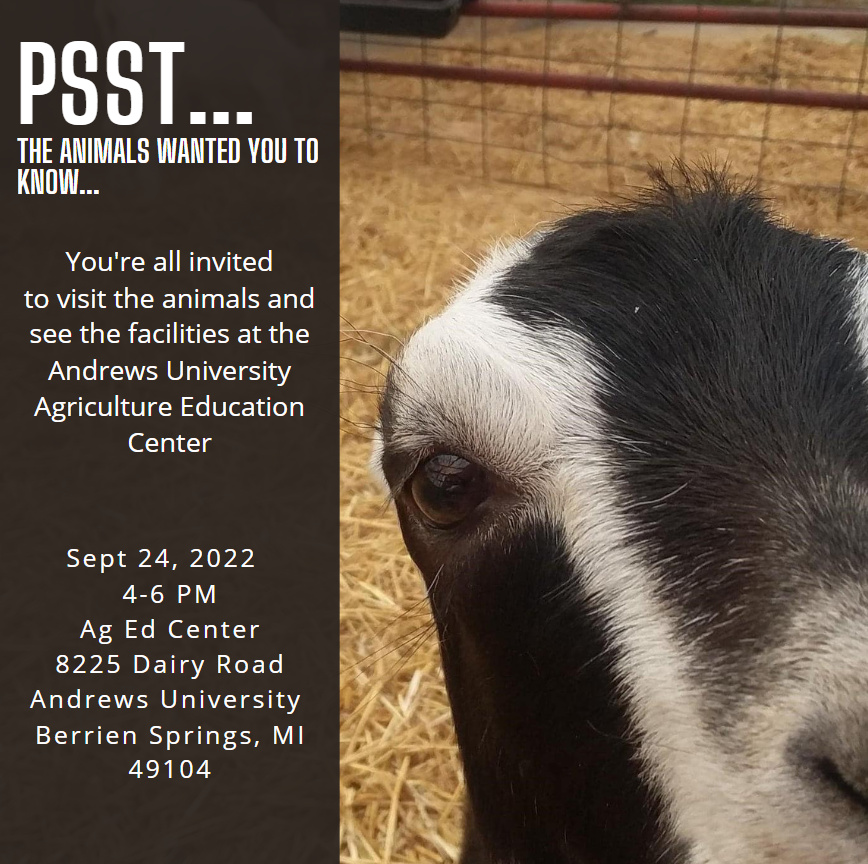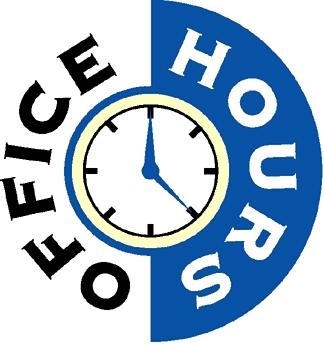 Mondays - Thursdays:
7:40 AM - 4:00 PM

Fridays: 7:40 AM - 2:00 PM
Andrews Academy

8833 Garland Ave Berrien Springs, MI 49104

269-471-3138