Andrews Academy's
Official Newsletter
First Day of School
Wednesday, August 17
8:00 AM - 12:00 PM, AM Classes

Please note that the first three days of school will be half days. On Thursday, August 18, PM classes will meet in the morning, and on Friday, August 19, we will have devotions and HodgePodge (fun activities). See the full schedule for the first three days in the announcement section below.
Annual Dedication Service

Date: Sabbath, August 27, 11:45 AM
Location: Andrews Academy Chapel
Speaker: Fernando Ortiz

Lunch will be provided afterwards.
Office Hours &
Contact Information
Summer Office Hours:

August 8-16:

Monday - Thursday:
9:00 AM - 4:00 PM

Friday: 9:00 AM - 1:00 PM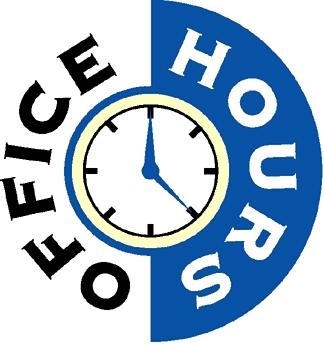 Regular Office Hours Resume
August 17:

Mondays - Thursdays:
7:40 AM - 4:00 PM

Fridays: 7:40 AM - 2:00 PM
Textbooks and Uniforms at AU Bookstore

The Andrews University Bookstore will be open as follows for you to buy textbooks as well as uniforms (AA logoed polos and fleece jackets, and PE shirts/shorts/sweats). Students will need their ID number, but not necessarily their ID card, to purchase textbooks and uniforms.
Bookstore Summer Hours:

This Sunday, August 7, 10:00 AM - 2:00 PM

Monday - Thursday, 9:00 AM - 2:00 PM

Watch for an email from AA and your teachers about required textbook(s).
School Supplies

Either via email or on the first day of classes, teachers will inform students as to what supplies are needed for their classes. For the first day of school, please at least bring a pen or pencil, your textbooks, and some paper to write on.
Tuition
The last day to submit tuition payment #1 is Monday, August 15.

Please contact Ms. Gracie at gaytan@andrews.edu with questions.
Testing Days

Math Placement Test - Wednesday, August 10, at 1:00 PM. This is for freshmen who haven't taken the test yet (contact satkins@andrews.edu).

Spanish I or II - Thursday, August 11, at 10:00 AM. This is for those who would like to test out of Spanish (contact silvestre@andrews.edu). See the email from Ms. Ivonne, AA Registrar, for more information.

Hot Lunch Contracts

Andrews Academy
School Lunch Program
2022-2023
Note: If you do not know your student's ID number, please reply to this email with the student's first and last name.

The school lunch program will begin on Monday, August 22. School begins on Wednesday, August 17, with three half days.

Dear Parents and Guardians,

Bon Appetit at Andrews University is honored to have the opportunity to provide your child with delicious meals that promote health and wellness. Our chef-driven food is alive with flavor and nutrition and always prepared from scratch. We take the care of your student very seriously, and thank you in advance for placing your trust in us.

As classes begin at Andrews Academy, Bon Appetit will continue to work closely with Andrews University to ensure we are following the latest guidelines from the CDC and Berrien County Health Department to ensure the safety of your student.
We are pleased to inform you that this year participating in the school lunch program will be easier than ever! We will no longer be using the mobile get app or requiring a contract. We are in the process of updating instructions for adding funds to students' ID card account, and they will be sent out soon. We are unable to accept cash.
The contract and application are attached. They must be filled out and returned to Dining Services by this Wednesday, August 10, 2022. Additional proof of income is required this year. We are unable to accept cash. Student is allowed one swipe per day.
The contract and application are attached. They must be filled out and returned to Dining Services by this Wednesday, August 10, 2022. Additional proof of income is required this year. We are unable to accept cash. Student is allowed one swipe per day.


Students must present their ID card for meal pickup. Portion sizes are predetermined, and second servings are not provided. Students are expected to behave appropriately while in the service area. Disciplinary action will be taken as needed.

Your feedback is always welcomed. Please do not hesitate to reach out to us.

It is our greatest pleasure to serve,

Your School Lunch Team at Bon Appetit

E-mail: ds@andrews.edu
Phone: 269-471-3161
Fax: 269-471-3789

Dining Services Office located on the first floor of the AU Campus Center.
Monday–Thursday: 9:00 AM – 5:00 PM
Friday: 9:00 AM to 12:00 PM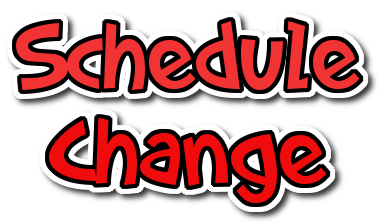 August 17-19, 2022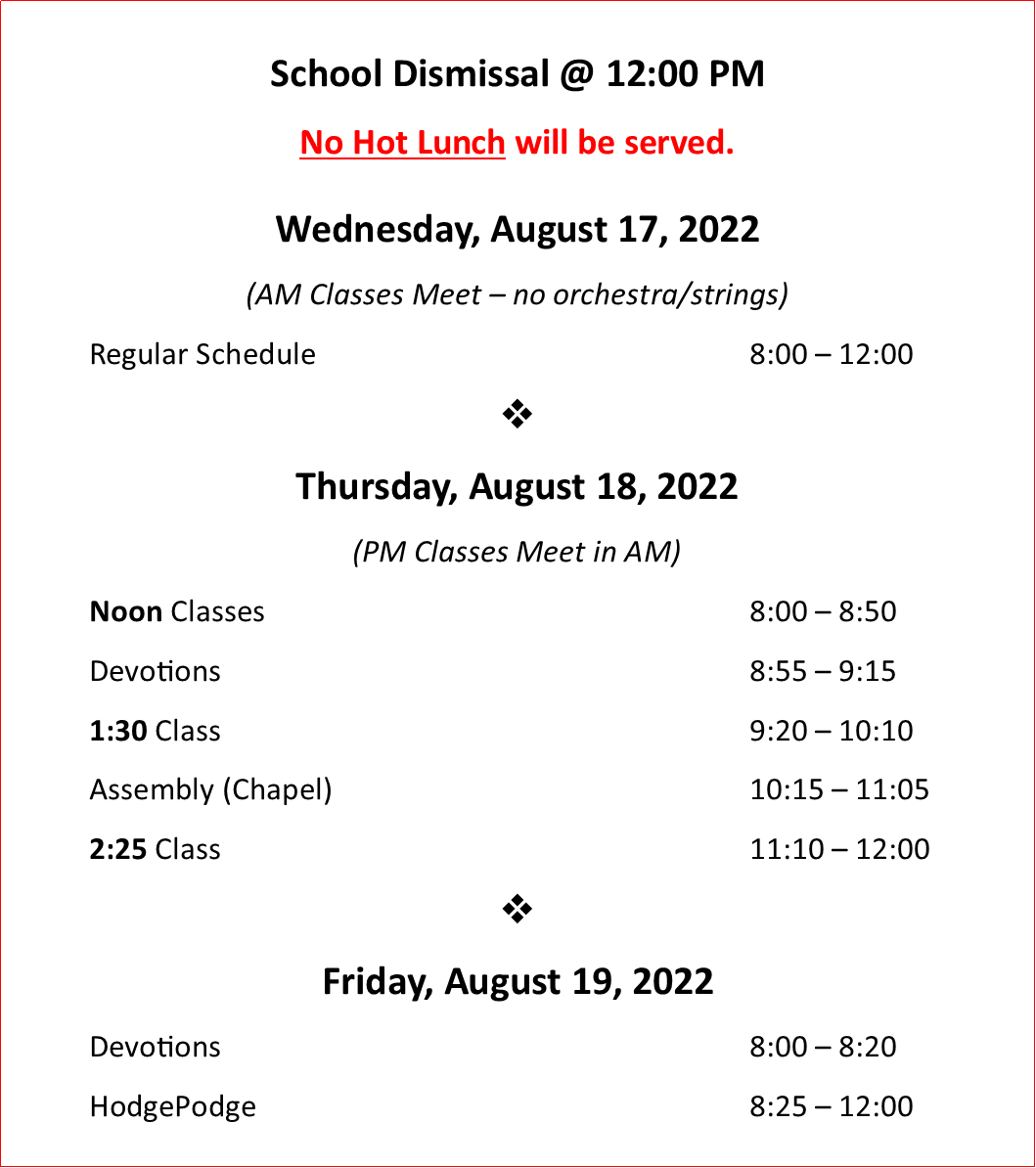 Band & Orchestra Auditions
Dear Band & Orchestra Students,

Welcome to the AA Band and Orchestra program! I'm so glad you are interested in joining our ensembles.

Auditions this year will be in person. Below are the dates, times, and place:

BAND @ AA CHAPEL
August 17, 12:30-6 PM
August 18, 12:30-6 PM
Sign up for your spot here.

ORCHESTRA (STRINGS) @ AA CHAPEL
August 19, 12:30-4 PM
August 21, 12-5 PM
Sign up for your spot here.

CONCERTO NIGHT @ AA CHAPEL
August 26, starting @ 1 PM
Sign up for your spot here.

Here you may access all the information you need regarding audition requirements, uniforms, major performances, syllabus, and etc.

I'm looking forward to meeting and working with you all this new school year.

Happy practicing!

Dr. Elsy Gallardo-Diaz
Intramurals at AA

Students, please click on the button and answer all of the questions to aid in planning the after-school activities at AA for the 2022-2023 school year.
Student Association Campout

Come enjoy a weekend getaway with your AA friends! SA campout will take place from September 9-11. Expect a fun-filled experience with plenty of activities to draw you closer to God and your AA family.

Details on how to sign up and more info will be sent out soon.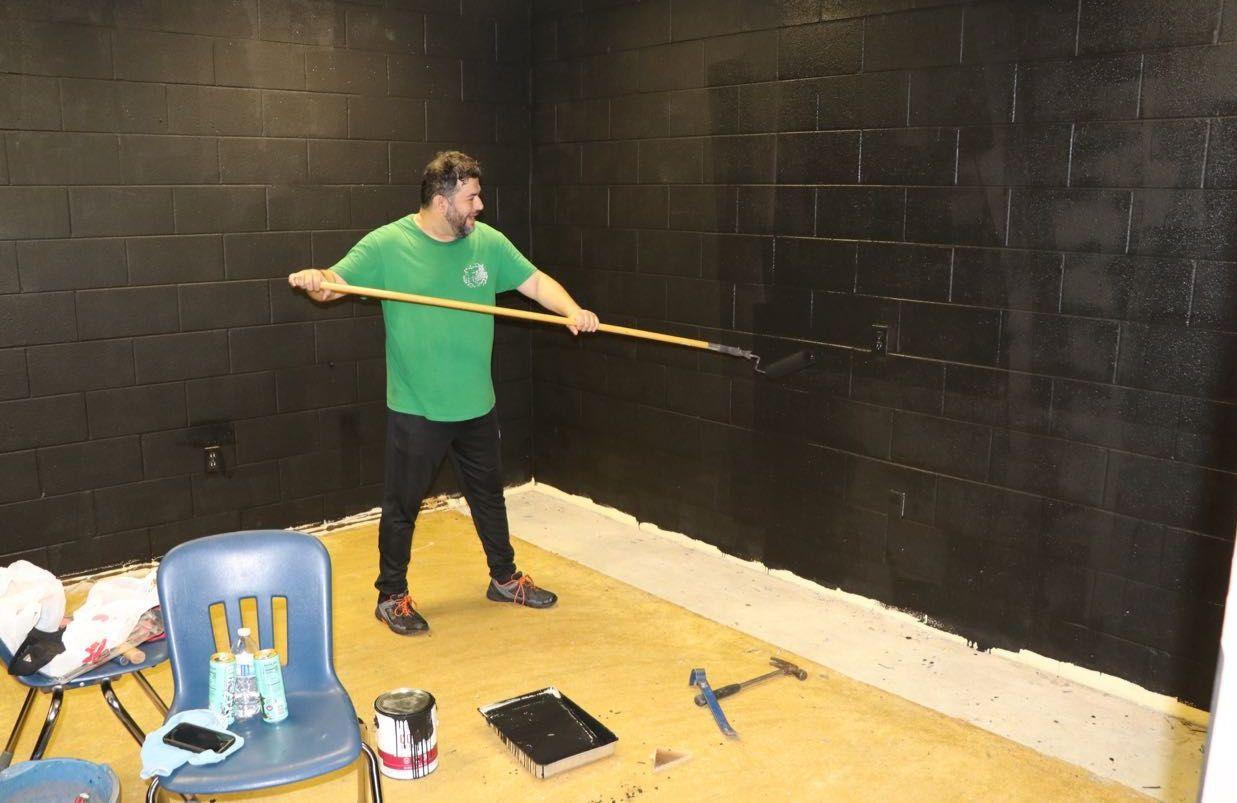 The storage room inside one of the Bible classrooms is being transformed into a recording studio room. Mr. Rojas is pictured here painting it black.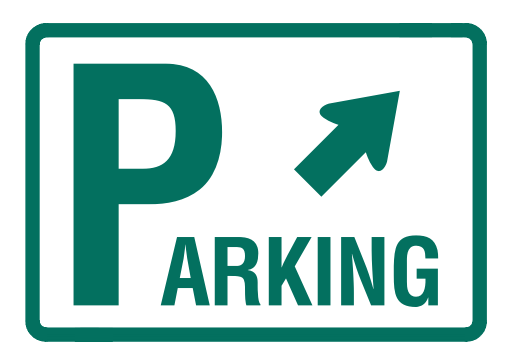 AU Campus Safety Parking Permit
Academy Vehicle Registration Process
All vehicles parked on Andrews University property must register their vehicle with the Office of Campus Safety. This must be done online before August 17 (or before you plan to park in the AA parking lot or anywhere else on the AU campus). (See instructions below.)
You will be given a green community registration sticker or an orange staff registration permit if your parent/guardian currently is employed by Andrews and is present at the time of registration. This will go on the driver's side lower corner of your windshield and should be visible to the on duty patrol officer. This permit will allow you to park in all blue and green lots on campus. No overnight parking is permitted.
The parking permit will expire on August 31 of the following year, when it will need to be renewed. It may be renewed sooner, starting in early May.
As a complimentary service, Campus Safety is pleased to offer free jump starts and vehicle lockouts to our guests and students provided they are on University property.
The Andrews University adopted vehicle policy can be found at the link below.
If you have further questions, Campus Safety is available twenty four hours a day, seven days a week and can be reached at the following number: 269-471-3321.
Walk-through of Online Vehicle Pre-Registration:
(Please read through instructions before you begin)

Step 1: Go to www.vault.andrews.edu and login using AU username and password (a DUO push will be required to enter system). New AA students who have not yet set up their AU username and password will be sent instructions soon.
Step 2: In Permit Type, select the permit type available (NOT Bicycle). The vehicle information boxes will then populate. (If your permit type is not shown, please select what is available, clarify the appropriate type needed with our office by email or at decal retrieval.) (If decal option is not given for Faculty/Staff, and this is your campus status, please skip step 8)

Step 3: Skip down to the Vehicle section and fill in the Type, Year, Make, & Modelof your vehicle. For Color, choose from the menu provided that is closest to your vehicle color.

Step 4: Your VIN number (Vehicle Identification Number) is string of numbers and letters that you should be able to find this on both the insurance and state registration (number must match on both documents.)

Step 5: In the License section enter theissuing State & License Plate number
Step 6: Click on the Agreement button (may be small in size below license plate information). Read through the Vehicle Registration Agreement and then sign using your AU password and then click Submit.

Step 7: Attach all documents requested (must be taken in any .jpeg format. If you are using your mobile device to take the pictures, check format: Settings, Camera, Format - use most compatible option.)
You must have CURRENT Registration & Insurance and a valid Driver's License to be issued a permanent parking decal. If document is expired see * below.

Click "Upload" after each document has been selected
++ Faculty/Staff skip to Step 9 ++

Step 8: There is a $10 annual fee per vehicle for non-faculty/staff parking decals. Select payment method. If you wish to pay cash or in person, do not choose an option. Cash can only be paid at the Financial Aid Cashiers Desk. (Note: Tell cashier payment is for Vehicle Registration and bring receipt to retrieve the decal.)

Step 9: Click "Update." Please look for emails in your AU email account with instructions.

* Place picture of plate in registration attachment slot. Please email safety@andrews.edu with this information after you complete all possible information online. A temporary parking permit will need be issued.Temporary Parking Permits must be placed in vehicle driver's side dash when parked on campus.

** If you have an appointment to register with state, please bring verification (email, screen capture) along with all other requested documents, and a temporary parking permit will be issued.

Temporary Parking Permits dates must be viewable on driver's side dash when vehicle is parked on campus.

Call AU Campus Safety at 269-471-3321 if you have any problems or questions.

After-School Hours Agreement

The After-School Hours Agreement needs to be signed by a student and a parent. Here are the acceptable ways to return this document:
Complete the attached fillable document and email to ginam@andrews.edu.
Print the attached document, complete it, scan or take a picture, and email it to ginam@andrews.edu.
Stop by the school office and complete the form.
Berrien County Youth Fair
Show that you are a fan of Andrews Academy! We invite you to stop by AA's booth and pick up a fan at the Youth Fair in Berrien Springs (across from Apple Valley), from August 15-20.
How would you like to get into the Berrien County Youth Fair
for free?
We'd love to have your help staffing the AA booth. Please click on the sign-up link and take a look at the available times to see when would work best in your schedule—then invite a friend to sign up for a shift (or two!) with you! Each volunteer will get a free fair entrance ticket per shift.
Reminder: August 17-19 are half school days at AA (12 noon dismissal). Students will be able to volunteer at the fair in the afternoon on those days (the fair opens at 11:00 AM).
Senior Pictures & Ads for Yearbook

Senior pictures are needed for yearbook, class night, and the class composite to be hung in the AA Commons. Yearbook will need your senior and baby pictures by Friday, October 21, 2022. We encourage you to get your senior picture done during the summer before the busy school year begins. Photographers get busy in the late summer and fall, so you may want to book an appointment early. PLEASE PLAN AHEAD and get your picture done in a timely manner.

Please send an electronic senior picture (JPEG) to the yearbook team (aayearbook@andrews.edu). You do not have to go to a professional photographer for this picture, but please make sure you follow the picture requirements below. If not, the yearbook team may request that you send an alternative.
Pictures for both the yearbook and senior ads must adhere to the following requirements:
In color
Picture from waist up (not entire body)
Portrait/vertical mode (not landscape/horizontal)
Attire per AA guidelines—no sleeveless shirts or bare shoulders, no low cut or cropped tops, no jewelry
High-resolution JPEG (at least 4x6, 300 ppi resolution)
Baby Photos

By the same date (October 21), please submit a baby picture as well. The baby picture will be used by yearbook as well as for senior bulletin board and class night purposes. Please submit a high-resolution JPEG baby picture. If you cannot scan the picture, you may bring the baby picture to the yearbook staff, and they will scan it for you.

Also, please plan ahead for senior yearbook ad nights on Monday and Wednesday, September 12 & 14, at 5:00 PM. At that time, you and your parents can purchase senior ads for the yearbook (see the messages to seniors in the back of previous yearbooks for examples).

If you have any questions or need more information, please email Ms. Kim at joellek@andrews.edu.
New Students

Each week more students are applying and enrolling for this coming school year. If you have not applied yet or you know someone who has not, please contact the school at aaadmissions@andrews.edu.

For new students, please go to the AA website and click on "Apply Now" for the online application.
Returning Students

For returning students who have not yet re-enrolled, please log in to FACTS and re-enroll. See the link below for detailed instructions.

(Parents, please keep in mind that even if your child was financially cleared, they will not be able to begin class this next school year (2022-23) if their account has a balance.)
Instructions for new students to obtain an Andrews username and ID card will be sent out soon.

If you have not sent in a picture of your insurance card (both sides) yet, please do so ASAP. Email photos to aaadmissions@andrews.edu. Thank you!
Some of you are in the process of applying, enrolling, or re-enrolling. Please refer to the instructions sent to you by email. If you have any questions or need assistance, email Mrs. Gina Meekma at aaadmissions@andrews.edu.
Partnering for Eternity Scholarship Program Fundraiser
The 2022-23 Partnering for Eternity team is already fund raising this summer with Operation: "Can Do!" As their families consume beverages in cans or plastic/glass bottles with MI deposit labels on them, they're collecting them in a designated space in their home, taking them to a recycling facility and donating the deposit money to PFE. It may seem like small change, but if you join us, even $30 of deposit money from each family adds up! Plus, imagine if we got our extended families, work places, and other local businesses involved. We raise 30% of the scholarship money every year, as well as money toward our own PFE endowment fund. We'll be stretching our faith toward a $22,500 goal!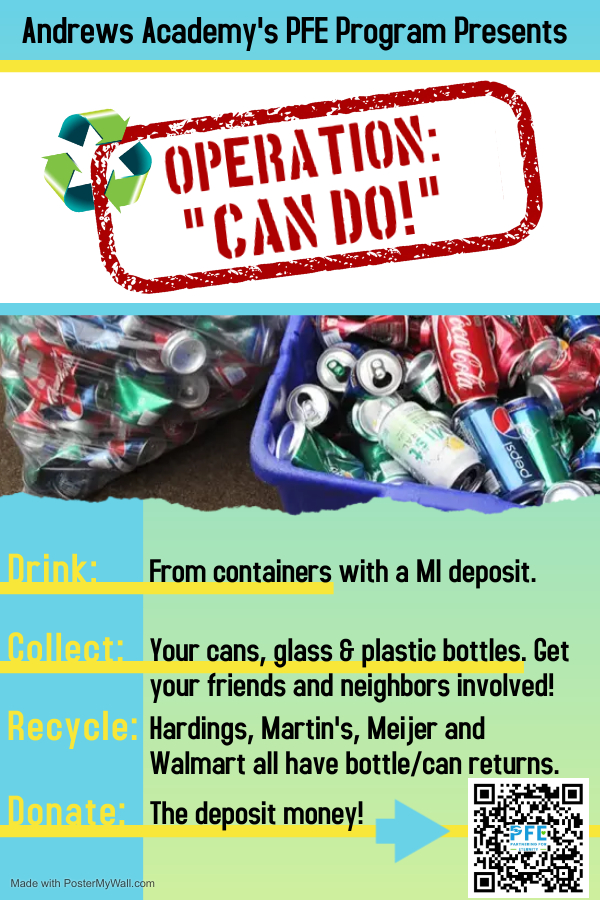 Start collecting, recycling and donating TODAY! Here's the link to donate:
For more information about this fundraiser or PFE in general, contact the coordinator, Joelle Ashley at joellea@fullylive.com.
Andrews Academy

8833 Garland Ave Berrien Springs, MI 49104

269-471-3138